Should Your Gas Station Be Pressure Washed?
There is no shortage of gas stations for customers to choose from, so what makes your station stand apart for the one across the street? Well, gas stations are often judged by three criteria. The first of course is the price of the fuel, something that is out of your control. The second is location, a decision that you get to make once. The third is appearance.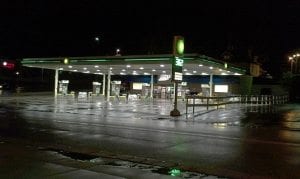 While these criteria may appear to be in their respective order of importance they really are not. There are many customers who will gladly pay a penny or two more at the pump or drive a tad farther if it means fueling up at a significantly cleaner facility. Why is that?
A Clean Image Is Everything
When selecting what gas station to frequent customers often equate cleanliness with quality. As a customer fuels up they notice their surroundings. So look at your station thru your customers' eyes: Are your pump stations and walkways dirty and caked with oil and spilled fuel (which is a safety hazard)? Are there cobwebs and burned out lights in your canopy? These things contribute to a negative impression in the minds of your customers. If a customer sees a dirty exterior they will never feel comfortable enough to go inside your convenience store which is vital to the overall success of your business. For your convenience store to thrive and by extension your whole business, the appearance of your whole gas station, from pumping island to the convenience store itself needs to be clean and inviting. At Eco Technologies we make that easy to achieve with our specialized gas station pressure washing service.
Gas Station Pressure Washing In Hampton VA
Because of the high volume of traffic your gas station receives each and every day, it can get dirty very rapidly. To maintain the safety and appearance of your gas station it is best to have a regularly scheduled program of cleaning. This will ensure that deposits and stains do not become a hazard and will demonstrate to your customers that you are dedicated to providing them with a positive experience! At Eco Technologies we offer a wide variety of specialized cleaning services for gas stations that are all done in an environmentally friendly way. Call or contact Eco Technologies for your estimate today! (757) 619-2823
Eco Technologies offers the following services to gas station owners:
Drain Cleaning

Drain Cleaning
Bird Dropping Removal
Drain Debris Removal

Canopy Services

Cleaning & Brightening
Hand Washing

Bulb Replacement

Replace Bulbs
Clean Light Reflectors

Concrete Cleaning

No Need to Close Station
Minimize Over Spray

Pump Island Services

Clean & Degrease
Retouch Curb Paint
Trash Receptacle Cleaning