Eco Technologies is one of the few companies able to perform commercial and industrial cleaning services that require Government clearances. We have personnel available who have passed Criminal History Record Check reports from the Virginia State Police (VSP) and the Federal Bureau of Investigations (FBI), and review by the VDOT Personnel Security Section. We provide infrastructure cleaning services to a range of clients. Whether you are a government installation, airport, regional transportation company, fulfillment center, wind turbine, highway tunnel, parking garage or bridge, we can design and implement a customized cleaning solution for you.
Heightened Safety Solutions
We believe that every job deserves to be executed carefully, safely, and meticulously. Every technician in the Eco Technologies team has the training to ensure that everything on your worksite - from your landscaping to our employees - is in safe hands. We adhere to strict safety regulations to keep your property code compliant.
Specialized Expertise
With some of the largest pressure washing equipment in the North America, and a variety of efficient cleaning equipment, Eco Technologies is always prepared to address your needs. We understand that all of our customers have unique needs and budgets, and we honor that through tailored services.
Scalable Service
Whether you need 10 parking garages cleaned in a week, hundreds of bus stops cleaned in a day, or one mile of highway tunnel cleaned in one night, Eco Technologies is here for you. We provide all types of specialized cleaning services to commerce, government, and industry clients, and we always design our service to meet the needs of the individual contract.
Environmental Safety
For properties, EPA compliance isn't just a moral obligation - it's a legal one. We use water reclaim and environmentally responsible methods and detergents, to keep our planet happy and our properties compliant. We bring expert cleaning solutions to all of our clients within infrastructure services.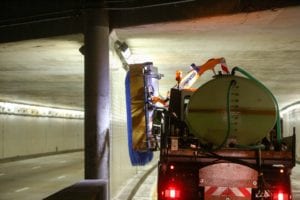 Around-the-clock usage. 24-hour service. Continuous operations. These are cornerstone qualities of many of our pressure washing clients. And when you want to keep your doors open day and night, you need an exterior cleaning provider who can maximize results and minimize disruptions. Scheduling on Your Schedule Eco Technologies works with large-scale units that need flexible service. Some of the most common projects we deliver include: Port Cleaning Bridge Cleaning Tunnel Cleaning We know how much…
Read More