Elevated results, accountability, and efficiency.  Eco Technologies brings better cleaning solutions to the transportation sector.
We apply our expertise to address industries across the transportation sector: Rail stations, bus stops, transit centers, maintenance facilities, and airports. Our service extends across the continental United States, and we deliver niche solutions to large-scale clients that manage vast properties or multiple locations.
Streamlined Service
Scalability: Eco Technologies has one of the largest fleets of vehicles and equipment in our industry.  We have the expertise, the resources, and the experience to scale our services to successfully implement projects of any size and complexity. You list your needs, and we'll meet them with singular quality.
Efficiency: We serve the transportation sector with services that are streamlined, so they don't interrupt daily operations. From efficient service to flexible scheduling, Eco Technologies works with each client to ensure that we maximize our outcome with minimal inconvenience to the customers they serve. All vehicles are equipped with: GPS navigation and tracking, wireless work order dispatching, web cameras, and computer optimized routing, for maximum efficiency and job verification.
Environmental Compliance: Our practice is deeply rooted in our guiding goal to be "Your Greener Pressure Cleaner." Our Wastewater Recovery & Treatment equipment and procedures; contain, recover, and recycle all the waste water that we produce. This ensures that all the properties under your management are compliant with EPA regulations.
Safety: Every member of the Eco Technologies team adheres to rigorous safety protocol to achieve your goals safely. In addition to being fully insured nationwide, we always work within the guidelines of local, State, and federal regulations. Eco Technologies' robust and state-of-the-art cleaning services are designed to keep the transportation sector moving. Our tailored approach creates a customized solution for every client, so you can return to business as usual. With a strong commitment to excellence, industry-leading technology, maximum efficiency, and impeccable quality, Eco Technologies is uniquely suited to reliably meet the needs of your next project.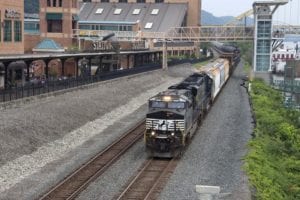 Our client was a rail station. It had a full timetable of arrivals and departures – and it served thousands of passengers each day. It was our job to deliver a cleaning solution that met the high cleaning and scheduling needs of the station. Keeping Progress on Track We mapped out a service plan to…
Read More