Pressure Washing Your Warehouse Space
Unlike other types of commercial property, warehouses seem to be made for abuse. Heavy equipment and even heavier traffic can be seen at most warehouses. Whether the warehouse space is used for fabrication or storage one thing is always true, a warehouse can get downright dirty! However, since most warehouses are out of the view of the general public cleaning them may not seem like such an urgent matter.
A Clean Warehouse is a Safe Warehouse
In a warehouse dust, dirt, oil, and other stains accumulate very rapidly on the floors making them a very hazardous surface to operate on. Lifting equipment could lose traction and employees could slip and fall, this represents a real liability for your company.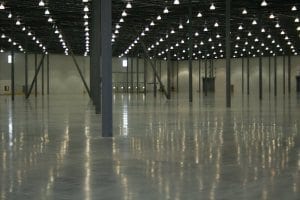 Keeping the floors of your warehouse clean is a great way to help keep your employees safe, with less chance of slipping your employees can also work more efficiently since they will be confident in their footing. Similarly, exhaust soot and other stains accumulate on the walls of many warehouses. Needless to say, there is nothing healthy about breathing in these pollutants. Keeping the walls clean helps to contribute to a healthy working environment and helps avoid lost production from preventable employee sickness.
The Best Warehouse Pressure Washing In VA
Here at Eco Technologies, we know that a clean warehouse is a safe warehouse.  Our warehouse pressure washing service can improve your warehouse's image.  We know how to remove the toughest stains safely and quickly.  We use professional grade environmentally friendly products and waste water recovery systems.  We use only biodegradable detergents that are environmentally friendly and can clean dirt away in seconds without damaging the surface. Most of our service can be done off hours when employee traffic is minimal.  After hours and weekend service are available as well. Call or contact us to request your free estimate! (757) 619-2823
Warehouse Pressure Washing Services:
Floor Cleaning
Stain Removal
Oil Removal
Walkway Cleaning
Loading Dock Cleaning