Maintaining Your Commercial Property
In many ways, your commercial property is the face of your business. After carefully selecting the perfect location it is only natural that you want to do all you can to maintain your business property in pristine condition. Pressure washing is one of the best ways to maintain the appearance and health of a wide range of surfaces around your business property.
A Versatile Solution
Power washing can benefit so many surfaces around any commercial property. It is cost-effective, safe and easy to maintain a proper cleaning schedule once you connect with the right pressure washing professionals. Every day your business property is exposed to not only the natural elements (like dirt, dust, mold, and mildew) but also to a number of man-made pollutants that can build up over time. The heavier the traffic the more pollutants and dirt will build upon your surfaces.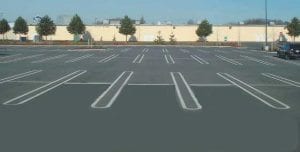 Pressure washing these areas will not only remove the dirt and pollutants but also help your surfaces last longer without breaking down.
Parking Lot – Your Customers First Impression
Pressure washing can make a huge difference in the appearance of the parking lot of your business. In some instances, parking lots have to be kept up to code with the proper markings and handicapped spaces. For businesses that get a lot of traffic, these markings can be covered with oil and other fluids. Adequate pressure cleaning on a regular schedule can keep all of these surfaces clear and attractive for years to come.
Brick & Concrete Walls Too
Pressure washing can also be very effective in the cleaning of the walls of your commercial property. Dirt, grime, and mildew are constantly gathering on the exterior of buildings. If left unchecked, these contaminants can lead to costly repairs. Just as there are many types of building surfaces (brick, concrete, vinyl) there are many pressure washing techniques. Pressure can be adjusted to suit certain surfaces. High pressure can be used for brick and concrete walls, and lower pressures can be used to adequately clean vinyl siding without causing damage.
Here at Eco Technologies, we know that first impressions of your business can be made before your customer even enters your buildings.  If your parking garage, parking lot, walkway or sidewalks are in bad shape, this could make a difference in how potential customers perceive your business. We know how to remove the toughest stains safely and quickly. Call or contact us today for your free estimate. (757) 619-2823
We currently service many types of commercial structures, including:
Gas Station Pressure Washing
Parking Lot Pressure Washing
Warehouse Pressure Washing
Restaurant Pressure Washing
Automotive Service Center Pressure Washing
Car Wash Pressure Washing
Shopping Center Pressure Washing