Kitchen Hood & Exhaust Cleaning – What's Under Your Hood?
As the old saying goes "it's what you don't see that can kill you". While it may sound ominous, it is a valid warning, especially when it comes to cleaning the kitchen hood and exhaust in your restaurant. The exhaust system is responsible for removing grease-laden fumes and smoke from the kitchen.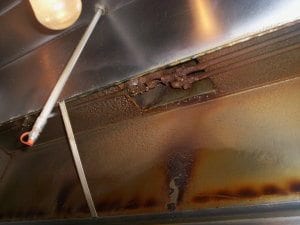 Since grease is a substance that can ignite fairly easily, a simple spark from your cooking line (even a malfunctioning appliance) can cause a serious fire that could cause severe damage to your restaurant in seconds and potentially put lives in danger.
Out Of Sight, But Not Out Of Mind
If you haven't looked under the hood or into the vent then you may not be aware of just how much grease can accumulate all along the inside of your kitchen exhaust. With each meal that is cooked in your kitchen, greasy vapors rise up into the hood and into the kitchen exhaust system. Because grease is a sticky substance it is only natural that some of these vapors stick to the sides of your kitchen exhaust system. While your kitchen may be cleaned every day, your exhaust system is not in plain sight so you may not realize the full extent of accumulation and buildup of grease in your kitchen exhaust and hood. Kitchen exhaust and hood cleaning from Eco Technologies keeps your restaurant safe, clean and in compliance.
From The Hood To The Rooftop Fan
When contracting for cleaning services, it is important to ensure you get a complete cleaning of your entire system. Some contractors offer a "hood cleaning" service which does not include the ductwork or rooftop fan. While such services may keep the interior of the kitchen looking sharp, they do little to secure fire safety and reduce health threats. Only a complete cleaning of the system, from the hood in the kitchen to the fan on the roof, will reduce the risk of kitchen fires and ensure compliance with fire regulations. Eco Technologies is a qualified professional contractor that follows industry standards and guidelines to ensure a job done right. Call or contact us today to request your free kitchen exhaust & hood cleaning estimate! (757) 619-2823
Our Kitchen Exhaust & Hood Cleaning Service Includes:
Kitchen exhaust cleaning
Service report at the end of the job will be provided
Complete service/from the hood in the kitchen to the fan on the roof
Custom cleaning package designed for your individual needs. The frequency of cleaning is determined by the cooking volume as described in NFPA 96.
We will provide either a certificate of performance or a sticker with details, as appropriate.