Commercial Concrete Cleaning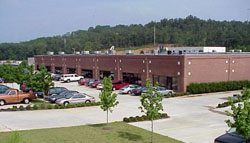 Concrete is one of the most common materials at any commercial building. From sidewalks and driveways to warehouse floors concrete can fill a variety of roles. This versatile material has a lot of advantages but there is one undesirable property that concrete has that can make removing stains a pain. The surface of the concrete is porous which allows liquids, dirt, and other contaminants to penetrate below the surface and lodge themselves into fissures in the concrete. While there are many suggested methods for cleaning concrete on the Internet, they are neither efficient nor cost-effective.
The Best Way To Clean Concrete
Because of the porous surface of concrete, traditional scrubbing only has limited success. In order to lift out the embedded dirt from concrete, one needs something to penetrate deep into the concrete without damaging the surface. Pressure washing was made for this. The pressure that is used to propel the water is just the right amount in order to dislodge even the most ingrained dirt. The result is a concrete surface that is completely clean and visibly brighter than what can be achieved by any other methods. In the hands of a professional pressure washing is safe for concrete no matter what texture the surface has.
Impress Your Clients And Employees
The concrete surfaces around your commercial property are always in visible areas. In order to make a favorable opinion with your clients, prospects, and employees you will want to keep these areas as clean as possible. At Eco Technologies we use state of the art equipment and environmentally friendly techniques to remove every inch of dirt off of your concrete surfaces. Even if your concrete is aged we can bring back that bright, like new appearance. Call or contact Eco Technologies today to request your free estimate! (757) 619-2823
We currently service many types of commercial structures, including:
Gas Station Pressure Washing

Parking Lot Pressure Washing

Warehouse Pressure Washing

Restaurant Pressure Washing

Automotive Service Center Pressure Washing

Car Wash Pressure Washing

Shopping Center Pressure Washing