Choosing A Good Commercial Pressure Washer In Virginia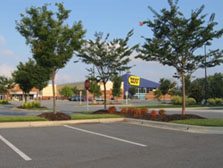 One of the best ways to improve the "curb appeal" of your commercial building and retain the maximum property value is to keep buildings, driveways, and parking lots clean. Dirt, grime, and even mold will break down and reduce the life of certain building materials resulting in costly repairs. Power washing is the undisputed champ when it comes to keeping these areas clean. The question sometimes arises, does it matter who you call to pressure clean your commercial property or should you try to do it yourself?
Do It Yourself At Your Own Risk!
While many pressure washing machines can be found at your local home improvement store, these machines do not have the same pressure capabilities as commercial grade pressure washing equipment. This means that they cannot push water out at the same pressure. Rather than producing water that cleans out the crevices of any surface, insufficient pressure can actually result in compacting the dirt and grime deeper into the surface! Even if you can get your hands on commercial grade pressure washing machine it is advised not to use it! The pressure these machines can produce is enough to chip or damage any surface, including concrete, unless in the hands of a trained professional. Damaging your concrete surface or building would result in costly repairs.
Not All Pressure Washers Are Equal
When choosing a pressure washing contractor for your commercial property you should look for provable experience. Someone new to pressure washing or even new to commercial pressure washing may not know the subtle techniques needed to work with the many different surfaces of a commercial property. Similarly, if they are not armed with the correct equipment then the best results simply cannot be achieved.
The Best Is Right Here
Commercial pressure washing can be challenging. Commercial surfaces such as your parking lot and sidewalks tend to be some of the most heavily trafficked areas around. Our experts here at Eco Technologies have extensive training and years of experience in making commercial properties such as yours look their best! If you are looking for an experienced commercial pressure washing contractor with years of results call Eco Technologies at (757) 619-2823
Our Commercial Services Also Include:
Walkway Cleaning
Gum Removal
Stain Removal
Parking Area Pressure Washing
Awning Cleaning
Store Front Cleaning
Sidewalk Pressure Washing
Trash Enclosures