3 Ways We Help Your Parking Garage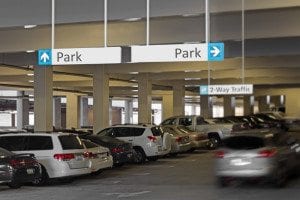 A parking garage isn't just an entry and exit point for your business; it's the first impression that visitors get of your property. Eco Technologies takes the role of this space seriously. Our parking garage services are designed to keep your property safe, curb appeal friendly, and long-lasting. Get the details on what to expect when you schedule your appointment:
Safety
Cars leak oil, antifreeze, and other contaminants and trail them wherever they go. People drop everything from drinks to food to gum. Both vehicles and their passengers track dirt and other debris. These elements aren't just an eyesore; they're a safety hazard. We offer professional solutions that will remove buildup and leave your garage as it should be: Clean, clear, and free of any slip and fall risks.
Long-Term Quality
You want your parking garage to function reliably today… And for years down the road. We provide regular maintenance that will prevent cracking, dusting, and other issues. This eliminates the need to undertake costly and inconvenient repairs and replacements.
Curb Appeal
While people might not instantly compliment you on your spotless parking garage, they'll definitely hold a dirty one against you. These spaces have a huge impact on the overall curb appeal of your space. Our team offers the expertise to make sure that the first impression you give off is professional and clean-cut.
Let Eco Technologies give your business the TLC it needs to stand out for all the right reasons. We're proud to offer our customers in Virginia Beach, VA parking lot cleaning services that will always ensure they're putting their best foot forward!